Triton 2021 – MADE IN SPAIN

It is one of the latest and most innovative Starvie designs. Our new padel
racket is designed for players who want to develop an offensive, powerful
game. It is 100 % made of carbon, which ensures the highest resistance and
durability to this unique racket.

Performances:
•It incorporates the Star Balance that provides perfect weight balance.
•Its rough surface (Full Plane Effect) brings maximum precision and helps
the speed of the ball. StarVie is the only one that works this roughness directly
from the mould.
•It has a tear shape that places the sweet spot at the top of the racket.
•The medium density of the rubber offers the best balance between control
and power.
• New 1 cm longer cuff for two-handed grip comfort.
•Product 100 % made in Spain (Azuqueca de Henares, Guadalajara).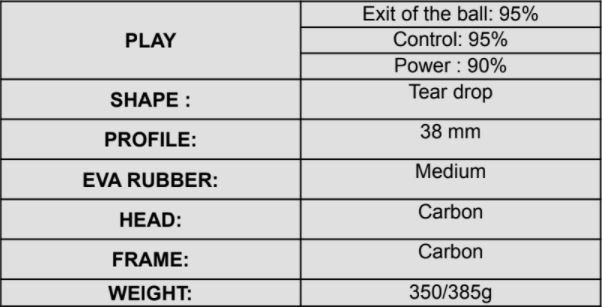 Download catalog here